Holm Stainless Steel Electric Coffee Bean Grinder
Shandali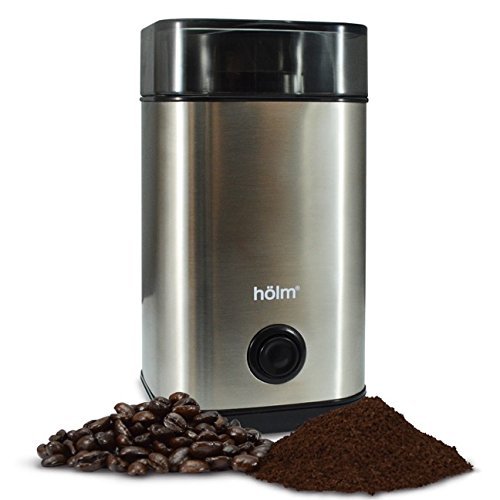 COFFEE GROUNDS, NOT DUST - Over processing the beans into superfine coffee dust is a concern for any coffee grinder. Experts agree that the best grinders produce minimal dust, which can block waterflow through the filter in many drip coffee makers. Burr grinders and lower quality blade grinders struggle to make properly sized grounds without creating coffee dust as a side effect. The holm grinder overcomes this problem by using long lasting

STAINLESS STEEL ULTRA-SHARP BLADE AND CUP CONSTRUCTION – Easily wipes clean with a soft cloth. Protect the oils and flavors of your coffee, nuts and spices with a clean grind, every time.

QUIET AND FAST – One touch quickly reduces any coffee, grains, spices, nuts to your desired consistency with minimal noise.

STYLISH DESIGN FOR YOUR KITCHEN COUNTERTOP – Sleek portable stainless steel and black exterior looks great on any countertop. Plus, its small design takes up little countertop space.

SAFETY LOCK – The lid twists on securely, protecting foreign objects (and fingers) from the sharp blades
Coffee tastes best if the beans are ground fresh before they are brewed. There is a wide variety of coffee bean grinders available on the market, so consumers have a large selection of affordable options to choose from. Unfortunately, these options can range anywhere from $20 to $100 depending on how fancy the grinder is. At Holm, we wanted to provide a coffee grinder that makes ground coffee affordably and reliably. No one wants to start making their beloved coffee only to realize that their grinder is out of order! We're coffee lovers too, and we wouldn't wish that kind of suffering on anyone.

Our research and development first lead us to the evenness of the coffee grind. We chose a coffee bean blade grinder design over the burr grinder for two reasons. First, the burr grinders tended to heat the coffee beans resulting in loss of flavor. Second, we were able to get the blade grinder to spin the ultra-sharp blades at nearly 20,000 RPM, while the burr grinder motor only managed 7,000 RPM reliably. This speed meant that our blade grinder was able to best chop the coffee beans evenly, and the motor lasted longer than the burr grinder which struggle to crush large quantities of beans consistently over time.

We also found that burr grinders tended to create tiny coffee particles that our coffee blade grinder design did not. This tended to overextract the flavor from coffee and made for a bitter coffee taste. The Holm Coffee Grinder blades did not have this effect, and our discerning coffee tasters preferred the more evenly flavored coffee brew.