The hölm set of 3 Heavy Duty, Non-stick, Stainless Steel Kitchen Tongs Black (7, 9, 12 Inch)
Shandali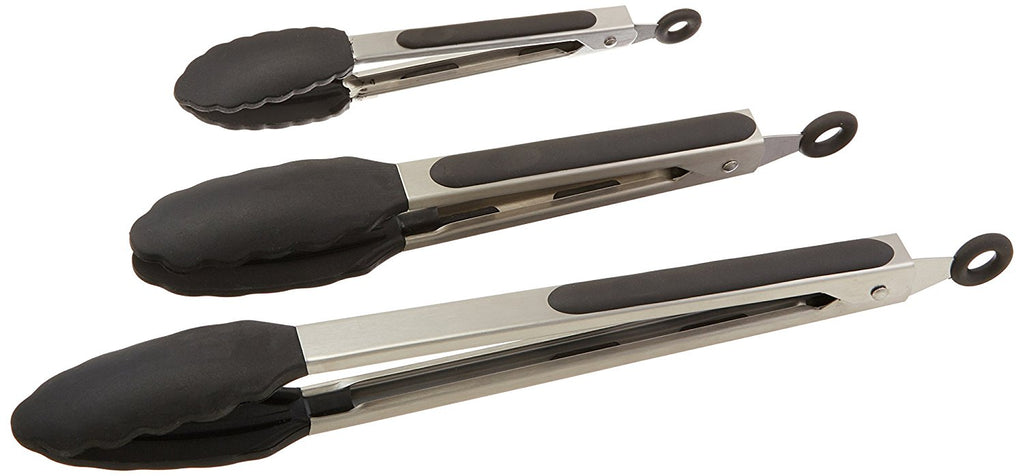 THREE SIZES - 7, 9 and 12 inch sizes mean you will always have a serving tong in the right size when you need it.  One size in the wash? Don't worry, you have two more stainless steel BBQ tong's to choose from!
PROFESSIONAL GRADE -  Commercial Grade Stainless Steel Metal with Heat Resistant, Non-Stick silicone tips. Superior to wooden or disposable tongs. Silicone is better than plastic or rubber coated tips. Our silicone and stainless steel material will not change or alter the taste of your food.
SERVING TONGS FOR THE PRO -  Perfect for outdoor barbecue or grilling in the kitchen. Works well for turning and lifting appetizer cheese, fish, crab, chicken, turkey, burger, asparagus, vegetable salad, ice block, escargot, pastry, cake, and taco. No more spearing food with a fork and drying it out, or accidentally dropping it on the floor. Use the tools the pros use.  
SALAD TONGS - Upgrade your salad and stop using grandma's serving spoons.  With a silicone tong, you'll find more salad in your plate and less salad on the floor. Easy to use for all ages, and with three convenient food tong sizes, you'll never have to go searching for a salad server again.
AMAZON REVIEWED -  Don''t take our word for it. Our Amazon reviews say it all. Check on the hundreds of happy customers that have used our kitchen tongs to better their culinary experience.   
All professional grade chef's know that using a fork to  lift, flip, turn, rotate, and otherwise move every conceivable type of food while it cooks is not a good idea. For one, puncturing  food with a fork releases juices which creates a dry, tough meal. Also, using a fork for handling cooking food is a recipe for dropping your hard work onto the kitchen floor.   What's needed is a set of professional cooking tongs that can help even the novice chef manage everything from serving salads, to small shrimp sautéing in a pan to large prime rib roasts emerging from the oven and everything in between. A fork just wont  do.
Kitchen tongs have come a long way since grandma's. Of course, there is still the basic model loved by chefs for decades: two plain metal arms connected by a spring.  But, for the pros, holm has teamed up with Decker Kitchenware to bring you this set of 3 red serving tongs.  The arms come cushioned with silicone, and pincers are  nonstick and have silicone scalloping around the edges. Underlying it all is a food grade stainless steel that wont affect the flavor of your food.  We believe our innovative design has improved on the old metal tong's.
First, we've redesigned  the pincers, which are  scalloped using silicone rubber.  Scalloping the edges makes for a better grip on food. But that's not the end of the story. The shape and firmness of the scalloping can vary. Pronounced scalloping can make items harder to grip. What your tong needs is just the right set of ridges and firmness. We spent hours in our test kitchen making sure our design had just enough scalloping for gripping, but not so much that food would fall right through.
Next, we cupped our tong's pincers slightly to make it better grip irregularly shaped objects like chicken legs or  cuts of beef.   The concavity helps our stainless steel tongs cradle the curved sides of  ramekins and lobsters, for example. We then coated the entire pincer in non-stick silicone to give it a better gentler grip without tearing skin or sensitive foods.
Lastly, we redesigned the arms with two important features,  The first was to cushion the arms with soft silicone that give your hands a more comfortable effortless grip.  The silicone keeps your hands planted, and cool in case your chef tongs heat up while cooking.  The second innovation is a locking feature that will prevent your tongs from springing open when you don't want them to.  Hands busy? You can use your teeth to push the lock in and out in a punch!  
We think you will find the holm and Decker Kitchenware BBQ tongs to be quite an improvement on the tongs of old.  And if you don't  please send us a message and let us know - your satisfaction is our number one priority!