Toddler Travel Lap Tray - kids Car Seat Travel Tray - Children Car Organizer
Shandali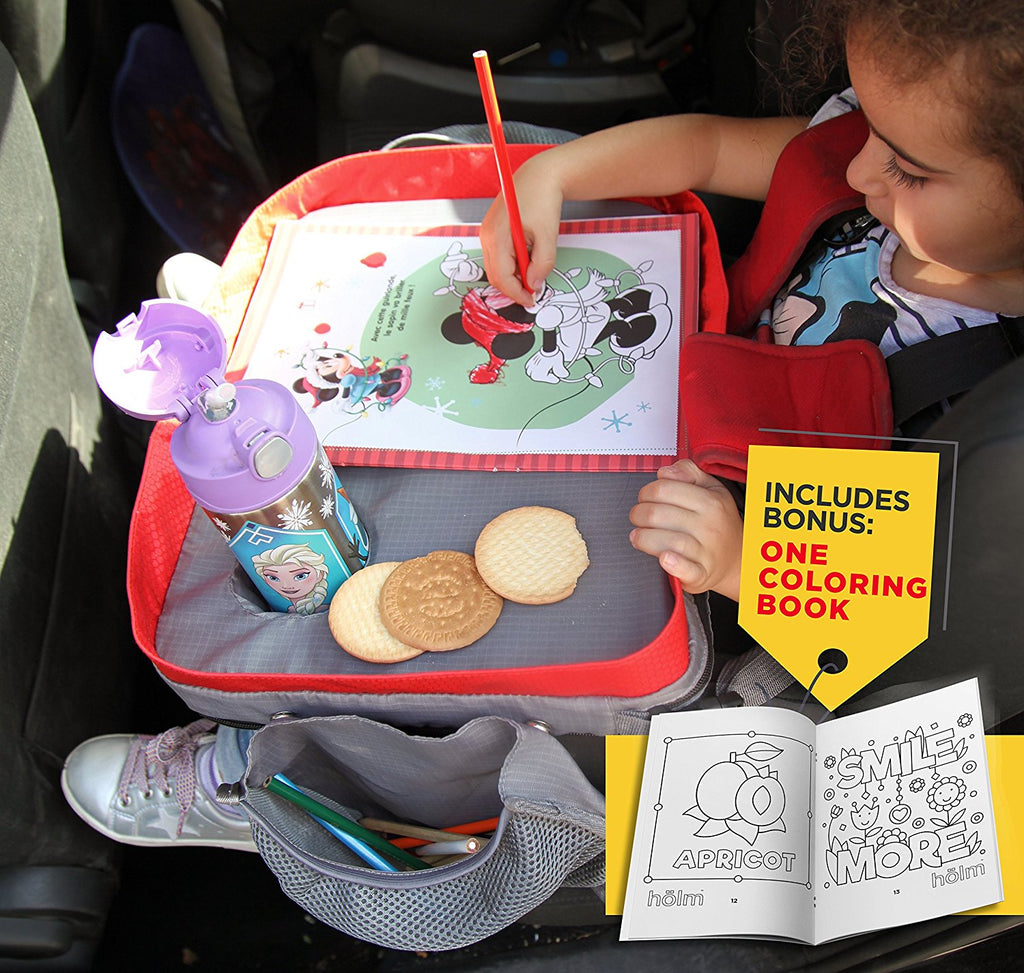 TRANSFORM TRAVEL TIME INTO PLAYTIME ANYPLACE: Because your child's smile is worth it! Car traveling roadtrips with kids doesn't have to be nerve wrecking, with the kids' portable tray traveling will be fun for you and for your children. With this portable drawing tray and activity tray, children will be entertained for hours, which keeps your attention on the road. It comes with a FREE HOLM COLORING BOOK

PEACE OF MIND ON THE GO: In a car, bus, airplane or in a park the HOLM portable travel tray has you covered. It has a cup holder and can be used as a kids snack tray as well as a toddler travel tray or travel play tray. This car seat tray can hold most of your child's car entertainment accessories.

ZIPPER and EXPANDABLE STORAGE POCKET: The Holm travel tray stroller and stroller snack table comes with a big zipper pocket that is expandable for storage. It can hold the entertainment materials for your kids while traveling. Moreover, this travel tray backpack can be carried as a messenger bag or as a backpack to transport your kids accoutrements..

STURDY DESIGN: This kids travel table has sturdy 1.57 inch sides to avoid crayons rolling off the tray. Additionally, the sturdy 1.57 inch foam board holds everything in place. This stroller child tray has a long adjustable strap which buckles behind the child to keep the car activity tray from slipping away and falling off your child's lap.

SPILL-PROOF MATERIAL: The hölm portable kids tray is made of a waterproof material, so spills are easy to clean; moreover, it also protects the items in the zipped pockets from getting wet. This is a must have kids lap tray and tray backpack. Buy now and join 1000s of happy parents that have already discovered the hölm Travel Lap Tray.
What's Included
You will get 1 hölm kids travel tray and 1 coloring book as a bonus so your child can start using the travel activities tray right away!
Product Benefits:
This is a great kids lap trays for clever parents that want to let their toddlers self-entertain while traveling by car, bus or airplane. This is a must have children's travel accessory.
Parents could use this as portable stroller backpack or as a snack kids lap table on the go.
Product Features
The hölm toddler lap tray is made with a waterproof material and has sturdy lap tray and sides.
It has a wide zipper and an expandable pocket to fit books, Ipads, tablets and other children entertainment gizmos.
The tray can be carried as a messenger bag or backpack for toddlers.
Order this hölm Travel Lap Tray for your toddlers today!