HÖLM 3-Piece Stainless Steel Mesh Micro-Perforated Colander Set (1-Quart, 2.5-Quart and 4.5-Quart)
Shandali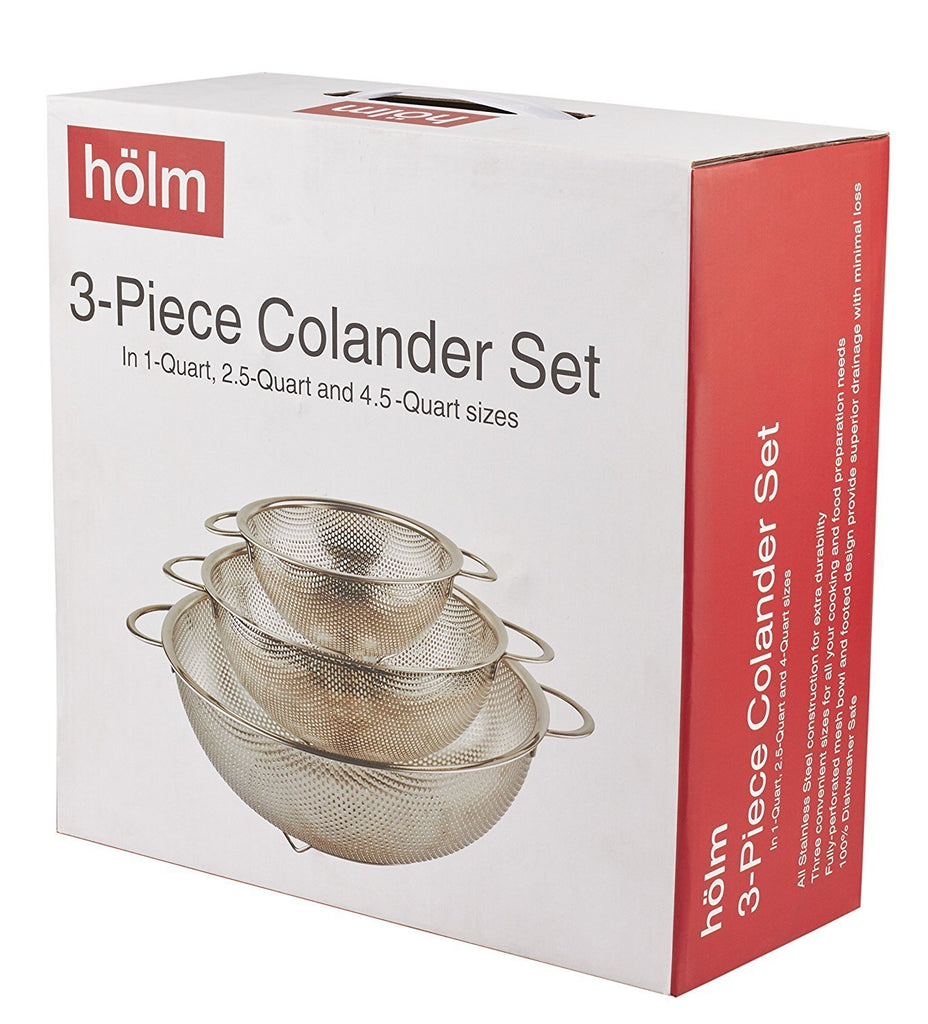 UPC 

702921413524

THREE CONVENIENT SIZES: In 1-Quart, 2.5-Quart and 4.5-Quart sizes for all your cooking, straining and preparation needs.

DURABLE STAINLESS STEEL: All Stainless Steel heavy duty construction for maximum durability at an unbeatable price. Sturdy handles and durable mesh make this strainer set a must-have. Will not rust even in the dishwasher!

STURDY BASE: Footed design facilitates fast, easy drainage for faster preparation, a cleaner rinse, and more efficient cooking. Makes a great alternative to handheld spider strainer.

SUPERIOR DESIGN: Fully-perforated mesh strainer and footed design provide superior drainage with minimal loss. 100% Dishwasher Safe and easy to clean.

DRAIN ANYTHING: This steel strainer set is great for washing, rinsing or draining pasta, rice, quinoa, grains, fruit, vegetables, berries, canned goods, beans, spaghetti, hamburger, tuna, cooked meats and eggs.
Perfect for seasoned cooks and novices alike, this set of stainless steel colander set is reliable, durable and designed with every kitchen in mind. Rinse fresh vegetables and fruits, or easily drain cooked pastas, rice, and grains. The fully-perforated mesh allows water and liquids to drain away quickly and efficiently. The metal handles allow for easy pickup without mess or spills. Plus, storage is easy with the design of this nesting set. Whether you're looking for a simple spaghetti strainer or a robust colander that can handle the finest, smallest grains, the holm 3 colander set is here to help you prepare food faster, easier, and cleaner.