Hölm Baby Nursing Cover TWO pack, Breastfeeding Cover up for Privacy
Shandali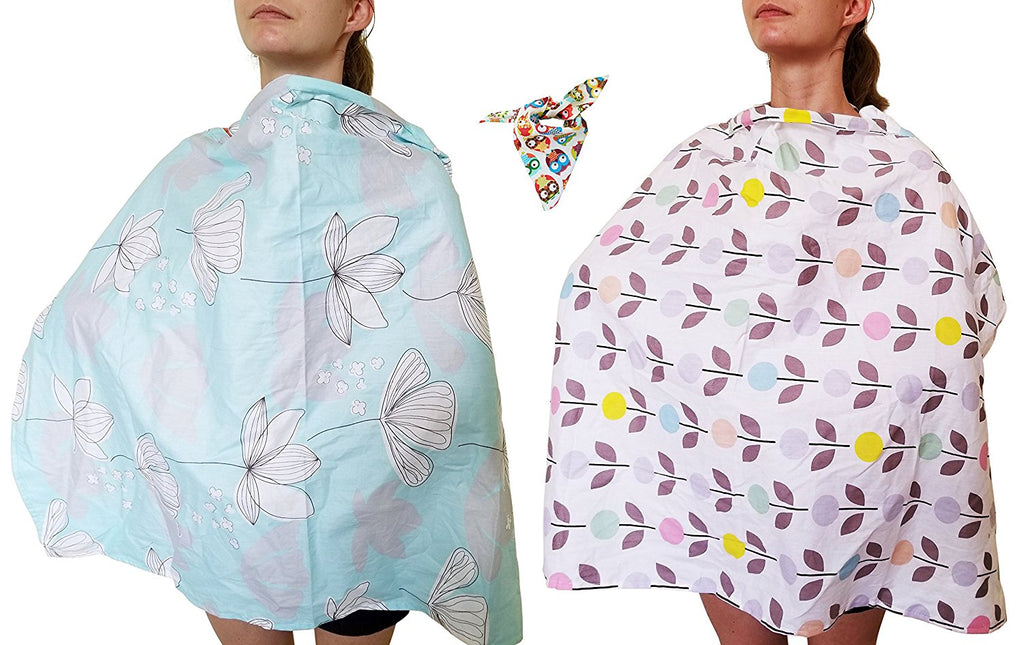 INCLUDED IN PACKAGE - Two 100% cotton nursing covers to help breastfeeding mom's gain a bit of privacy when wanted AND ONE nursing bib for baby.

BREATHABLE SOFT FABRIC -  100% cotton and machine washable nursing shawl. This high quality fabric breast cover allows baby to nurse discretely in a warm cocoon snuggled by mother.  Can also be used for discrete breast pumping at home or the workplace.

COMPACT AND LIGHT WEIGHT  - Measures 26" tall by 37" wide. Enough fabric to cover baby, but not enough to create heft. Easily fits in diaper bags or strollers storage.

COMFORTABLE AND ADJUSTABLE - Nursing cover with neckline easily adjusts with metal d-ring for comfort.  Always keep eye contact with baby while breast feeding. Open neckline also creates a natural air flow for baby.

BUILT IN BURP CLOTH - Nursing wrap has terry cloth corners help clean up run away milk. Baby bandana also included to  catch dribbles.

PAY LESS GET MORE - Included with every purchase are TWO nursing covers and ONE baby bandana bib.  Keep a feeding cover in your diaper bag, and another in the car. 
Does your baby get distracted during nursing?  Looking for some privacy when breast feeding in public? The Holm baby breastfeeding cover and nursing cover can help make breast time the best time for your baby.   Our premium cotton nursing cover fabric is light weight, soft,  breathable and provides excellent air flow. Light colors ensure that baby has a soothing atmosphere to aid with a relaxed moment of bonding while still providing a privacy cover.  Baby will  nurse without over-heating or becoming distracted or needlessly stimulated. Feeding is done while nestled against mother in a warm, safe cocoon of care.   The nursing cover folds easily into a compact form that fits perfectly into diaper bags for travel.  Since you get two nursing covers with your purchase, you can leave one in the diaper bag and one in another convenient place!  Also included is a baby bandana which can be used to clean up any spills during nursing. Boning in neckline allows mom  to keep an eye on baby  and ensure a proper latch.  Eye contact also helps sooth baby into a more relaxed feeding.  A metal D-Ring allows for an adjustable neck strap for mother and infant comfort.   And if the breast feeding cover is dirtied, washing is as simple as throwing it into the clothes washing machine.