hölm Kitchen Collection Ergonomic Smooth Edge Can Opener with Handle Grip, Black
Shandali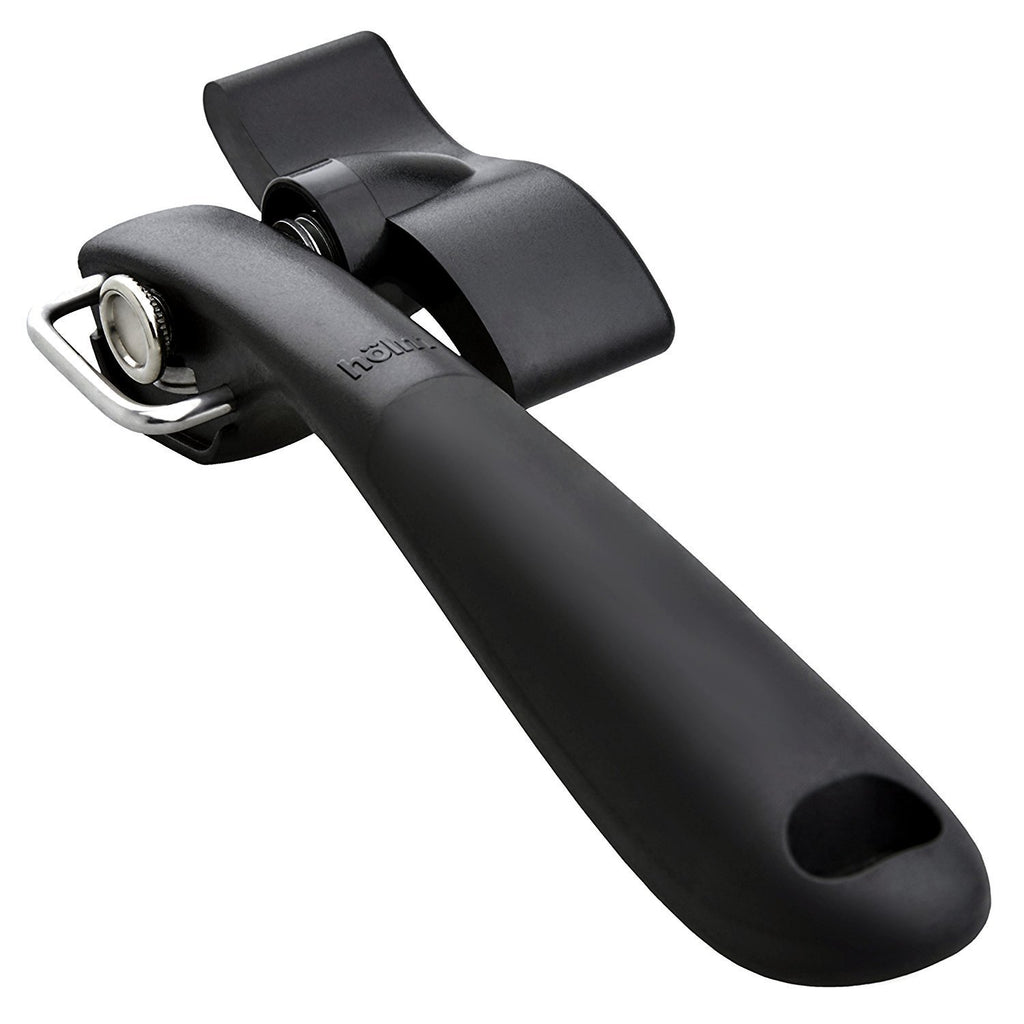 EXTREME EASE OF USE – Ergonomic turning handle (easy for elders with Arthritis hands) makes cutting open cans in seconds a reality. Our hölm can-opener is on par with oxo, kithchenAid, Farberware and all other leading brands. The smart-mold non-slip thick and large turning knob allows ease of use and gives you a comfort grip. The soft silicone non-slippery handle gives you the perfect leverage and cleaning is a breeze (also easy to store).
A HOT KNIFE THROUGH BUTTER - The razor sharp sphere discs cut through the tin cans effortlessly resulting in smooth child safe edges. The ever-safe side-cutting/turning design leaves smooth edge on the can and lid. Great for pet food cans! Just place the smooth-edge lid back on to the can to store uneaten food.
SIDE-CUTTING SAFETY CAN OPENER – hölm's safe & smooth edge side cutting can opener cuts big, small, round or oval cans from the side, so there isn't cross-contamination because the blades never touche the food in the can. Also the alignment loop allows you to quickly align the opener to the lid & allows you to see when the opener has completed the 360-degree cut.
EASY TO CLEAN: Since the cutting discs don't touch the food in the can, you only need to you can rinse it under running tap water then leave it dry. The high quality stainless steel disc will never rust.
MADE OUT OF HIGH QUALITY MATERIALS - Industrial quality silicone & Plastic is used in the manufacturing process to ensure a lifetime use, which is backed by our MONEY BACK GUARANTEE. If you aren't happy with the can opener, just simply contact us directly and we will quickly offer you a refund.
The holm can openers give you the absolute best value for your money. No fear of injury from jagged edges with its smooth-edge side cutting feature. This can opener designed in a way that the blade doesn't touch the food. It's stylish design in black and steel matches the decor of any kitchen! Crafted from high quality stainless steel food-safe material that won't rust or break while using and will last for years. The combination of the big knob, long ergonomic anti-slip handle and the extra sharp cutting wheel makes opening cans nearly effortless, even for users with the weakest hands! The strong stainless steel blade slices through the side of a can in one touch. No excessive pressure needed! Easily tuck this opener away quickly into a drawer or hang out of the way with the hole in the handle to save space. 100% Money Back Guarantee. If for any reason you don't like this product, we'll refund every penny with no hassle.