Holm Windscreen Wind Deflector for Convertible Cars - Stop Crazy Convertible Hair.
Shandali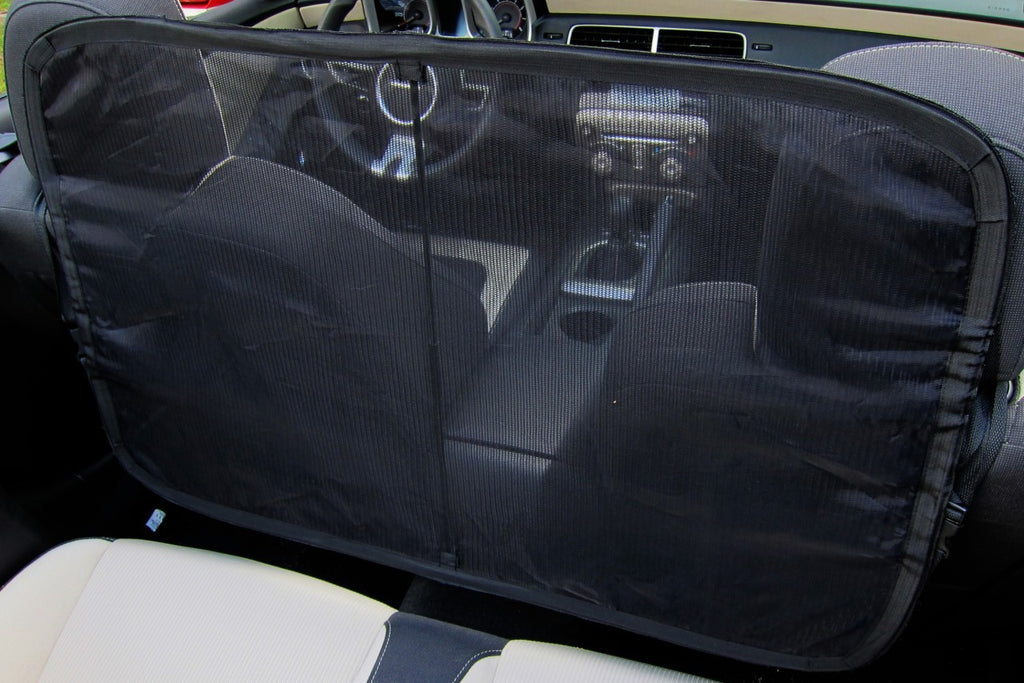 COMPATIBLE  - If your convertible has a backseat and an adjustable headrest, our Wind Stop will work for you!  It's adjustable to fit  a wide variety of drop tops from all major automotive brands:  Audi, BMW, Chevy, Chrysler, Ford, Infiniti, Lexus, Mercedes, Mini-Cooper, Mitsubishi, Nissan, Saab, Toyota, VW, and Volvo (to name a few!)   
COMFORTABLE  - Our windscreen reduces the amount of wind entering the front cabin by up to 70%.  You'll arrive at your destination without having looked like you just drove through a tornado.  Your hat wont blow away, your eyes wont dry out, your hair wont get tangled, and you will finally be able to enjoy driving your convertible with the top down.  
EASY TO INSTALL -  And easy to remove without help.   There are only two straps: one for each headrest. The strap wraps around the headrest pylon and clicks into a plastic buckle. A quick tug to tighten and you are done!   Best of all, it doesn't cover the rear seats which means you can use them for storage or passengers.   
COMPACT  - It's light weight and can easily be handled by one person. The metal frame folds into  a compact form that can fit in even the smallest convertible car's trunk.  Need the trunk space? You can  slide the folded windscreen under one of the front seats. 
QUALITY CONSTRUCTION - Our durable wind screening material is puncture resistant, so you wont have to worry about annoying holes.  We use a dual fabric technology to not only protect from tears, but to also provided superior wind deflection.  The rigid, flexible frame bends to deflect air but regains it's shape without dings or dents. No more broken windscreen rods or frames!
 Driving with the top down should be fun and carefree. But, the wind can be a real inconvenience.  The Holm windscreen acts to turn that torrent of air into a gentle breeze.  Not so much air that you arrive at your destination looking like you drove through a hurricane, but just enough to still feel like you are driving in a convertible. 
Extend your season into the fall. With less wind entering the front cabin, you can turn the front seat heaters on and drive with the top down for longer, or start a little earlier in the spring. With the reduced wind noise, you may even be able to have a conversation while the top is down, or listen to the radio! 
No more tangled rats nests
.  Without a windscreen, the backwash  of wind pushes your hair into your eyes.   With a windscreen, the backwash is greatly reduced so you'll be able to arrive looking refreshed and ready for fun! 
Your hat wont launch into the unknown as soon as you get above 30.  Your eyes will thank you too as they wont dry out because of the wind - especially important if you wear contact lenses.  
Lightweight and Easy Storage.  The windscreen folds up for easy storage in the small trunks of most convertible cars. Since it's light weight, you can install and remove the windscreen without help (or hurting your back!)   Adjusting the windscreen up or down is easy, and you can settle on the perfect position for your driving style.  It's even flexible enough to be used on seats that are in different positions. The driver and passenger don't need to have the same seating position.   
Dual Layer of Protection.  The wind deflector has two fabric layers for maximum effect. The first layer protects and strengthens the frame while deflecting some of the wind. The second layer diffuses the air so that what makes it through is a gentle breeze instead of a torrent.  The mesh fabric is light enough to see through, yet strong enough not to tear.